Overview
In July 2021, District Metals acquired 100% of the Gruvberget Property located in the prolific Bergslagen Mining District of south central Sweden from Explora Mineral AB. The Bergslagen is known for world class polymetallic mines such as Boliden's Garpenberg and Lundin Mining's Zinkgruvan. The size and scale of these mines has only been revealed within the last two decades through a better understanding of the associated polymetallic VMS/SedEx mineralizing systems, and through advances in drilling and mining technology.
Gruvberget is an advanced exploration property with the following highlights:
Gruvberget covers an area of 5,286 ha and is located approximately 230 km northwest from the capital city of Stockholm in Sweden.
Boliden's Garpenberg Mine is located 60 km to the southeast, and the historic Falun Mine is located 30 km to the east. Lundin's Zinkgruvan Mine is located 190 km to the south.
Gruvberget is located 35 km to the northwest of District's Tomtebo Property, and contains similar host rocks, structure, alteration, and mineralization styles as the Garpenberg Mine, Historic Falun Mine, and the Tomtebo Property.
Significant high grade polymetallic mineralization was discovered at Gruvberget around 1900. Mining at the South zone did not occur until 1987 where 40,000 tonnes at 90 g/t Ag, 5.1% Zn, 1.9% Pb, and 0.3% Cu9 was extracted via open pit mining, and transported to the Falun Mine facility for processing.
The Gruvberget South zone contains a historical resource to a depth of 50 m from surface associated with the following drill intersection highlights:

Hole GS-20-55 intersected 6.4 m at 129 g/t Ag, 8.7% Zn, 3.2% Pb, 0.48% Cu
Hole DBH-18 intersected 4.6 m at 139 g/t Ag, 11.7% Zn, 3.0% Pb, 0.42% Cu
Hole DBH-17 intersected 6.4 m at 66 g/t Ag, 7.8% Zn, 1.8% Pb, 0.38% Cu

The Gruvberget North zone has a strike length of 550 m and vertical extent of 160 m and remains open. A mineral resource estimate has not been established at the North zone that contains the following drill intersection highlights:

Hole GRU1003 intersected 8.9 m at 40 g/t Ag, 3.7% Zn, 1.3% Pb, 0.16% Cu, 0.04 g/t Au
Hole GRU1008 intersected 4.8 m at 98 g/t Ag, 5.3% Zn, 2.0% Pb, 0.28% Cu, 0.14 g/t Au
Hole GRU1011 intersected 6.1 m at 1.3% Cu, 1.9 g/t Au, 51 g/t Ag, 1.1% Zn, 0.15% Pb10

Drilling at the Gruvberget South and North zones reached depths of 50 m and 160 m, respectively, and significant mineralization is open in most directions. Operations at Boliden's Garpenberg Mine and Lundin Mining's Zinkgruvan Mine are currently at depths of 1400 m and 1300 m, respectively.
The Gruvberget Property comprises a 208 ha core mineral license that covers the North and South zones. The 5,078 ha enclosing mineral license contains numerous polymetallic showings that have not seen modern systematic exploration.
The last substantial work program on the Gruvberget Property in 2011 comprised drilling 2,200 m in 15 holes at the North zone.
Figure 1: Location Map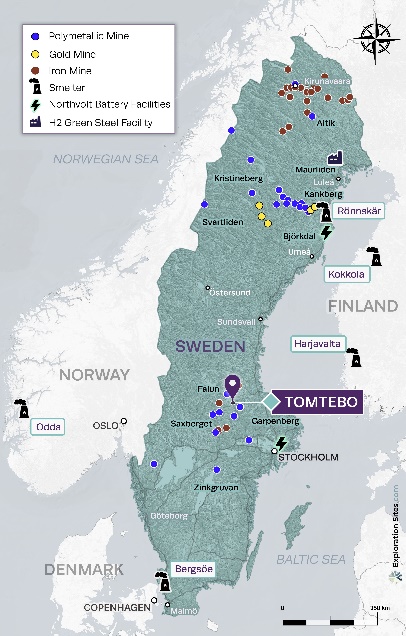 Bergslagen Mining District
The Bergslagen District is composed largely of supracrustal rocks dominated by felsic metavolcanic successions with limestones and calcsilicates, along with pre- to post-tectonic intrusive rocks located in south central Sweden. The region was folded and metamorphosed to upper amphibolite facies during the Svecofennian orogeny (1.9 to 1.8 Ga).
The district hosts thousands of mineral occurrences, including polymetallic Zn-Pb-Ag-Cu-Au sulphide and iron oxide deposits, Fe oxide skarn, banded iron formation, Fe oxide apatite, Mn oxide, and subordinate granite-pegmatite–hosted molybdenite and W skarn deposits1.
Figure 2: Bergslagen Mining District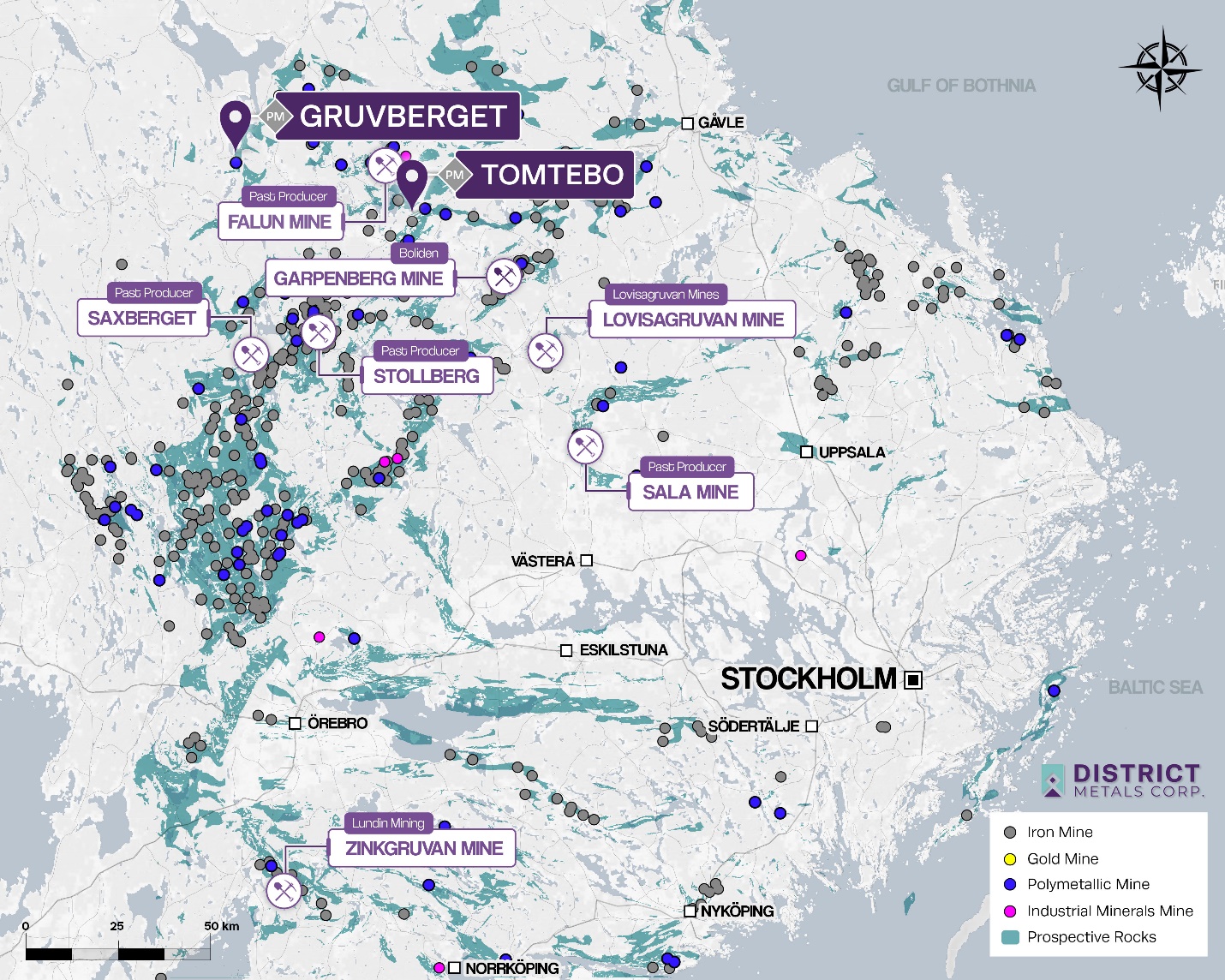 Table 1: Bergslagen District Production, Reserves, and Resources
Mine/Deposit
Tonnage of Production, Reserve, or Resource with Grades
Falun Mine1
28.1 Mt Production at 2–4% Cu, 2-4 g/t Au, 4% Zn, 1.5% Pb, 13–25 g/t Ag
Garpenberg Mine2
63.4 Mt Production at 131 g/t Ag, 4.7% Zn, 1.9% Pb, 0.3 g/t Au
Garpenberg Mine2
109.3 Mt P&P at 87 g/t Ag, 2.6% Zn, 1.2% Pb, 0.3 g/t Au, 0.04% Cu
Garpenberg Mine2
21.6 Mt M&I at 70 g/t Ag, 2.7% Zn, 1.3% Pb, 0.4 g/t Au, 0.06% Cu
Garpenberg Mine2
67.4 Mt Inferred at 57 g/t Ag, 2.3% Zn, 1.1% Pb, 0.3 g/t Au, 0.05% Cu
Tomtebo Mine3
0.12 Mt Production at 4.4% Cu
Lövås Mine4
0.33 Mt Production at 3.5% Zn, 2.5% Pb, 30g/t Ag
Zinkgruvan Mine5
19.3 Mt Production at 9.9% Zn, 4.0% Pb, 84 g/t Ag
0.9 Mt Production at 2.0% Cu
Zinkgruvan Mine5
11.9 Mt P&P at 7.9% Zn, 2.9% Pb, 63 g/t Ag
Zinkgruvan Mine5
5.2 Mt P&P at 1.8% Cu, 0.2% Zn, 26 g/t Ag
Zinkgruvan Mine5
15.7 Mt M&I at 9.3% Zn, 3.7% Pb, 84 g/t Ag
Zinkgruvan Mine5
5.0 Mt M&I at 2.3% Cu, 0.3% Zn, 32 g/t Ag
Zinkgruvan Mine5
9.4 Mt Inferred at 8.5% Zn, 3.5% Pb, 81 g/t Ag
Zinkgruvan Mine5
0.2 Mt Inferred at 2.3% Cu, 0.3% Zn, 25 g/t Ag
Sala Mine1
5.0 Mt Production at 150-3000 g/t Ag, 12% Zn, 1.5% Pb
Stollberg (Gransgruvan Mine)6
6.7 Mt Production at 7.7% Zn, 2.6% Pb, 60 g/t Ag
Stollberg (Tvistbo Mine)7
0.58 Mt Production at 3.3% Zn, 2.6%, 22 g/t Ag
Saxberget Mine3
6.43 Mt Production at 42.2 g/t Ag, 0.4 g/t Au, 0.9% Cu, 2.2% Pb, 7.1% Zn
Lovisagruvan Mine8
1.15 Mt Production at 9.4% Zn, 5.3% Pb, 10-20 g/t Ag
Note: The nearby mines provide geologic context for District's Project, but this is not necessarily indicative that the Project hosts similar tonnages or grades of mineralization.
Figure 3: Northern Bergslagen Mining District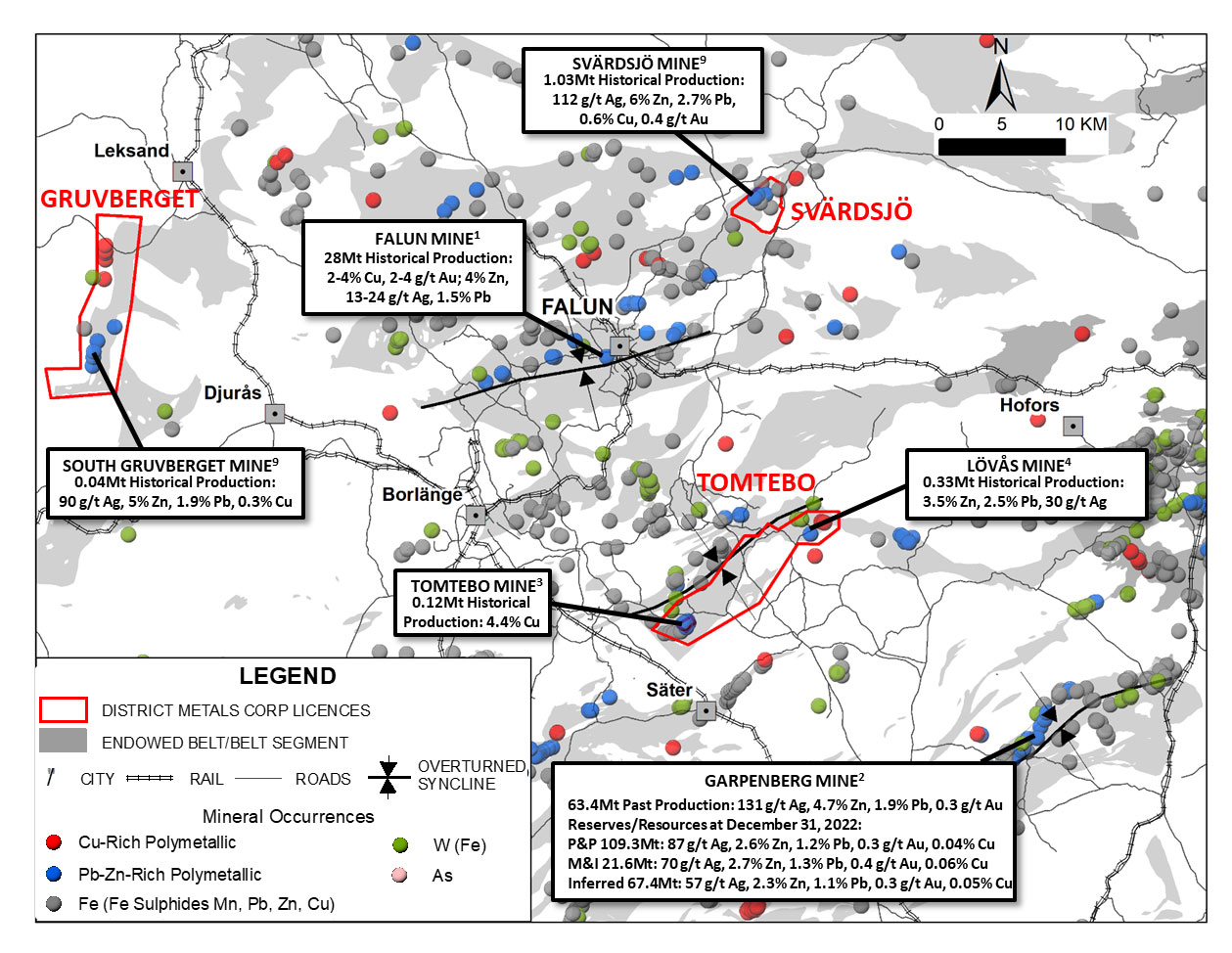 Gruvberget Property Geology and Mineralization
The geology, alteration, and mineralization types at Gruvberget are similar to the Garpenberg, historic Falun, and Tomtebo Mines. Felsic volcanoclastic rocks with inliers of carbonates are associated with strong hydrothermal chlorite-sericite alteration that envelopes Ag-Zn-Pb-Cu-Au polymetallic sulphide mineralization. Lenses and pods of massive sulphides are associated with Volcanogenic Massive Sulphide (VMS) and carbonate replacement style mineralization.
Figure 4: Geology Map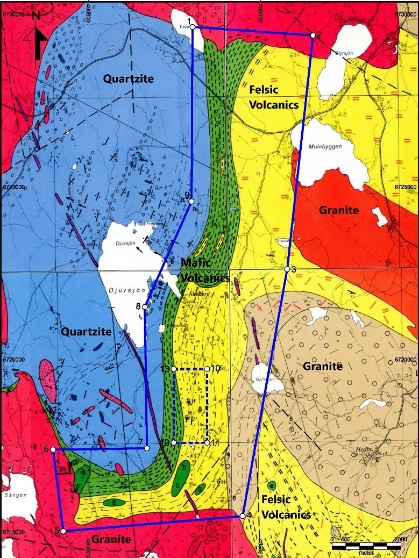 Historical Mining and Recent Exploration Work
The Gruvberget South zone was discovered by Rickard Bredenberg around 1900, which was followed by test mining and diamond drilling to shallow depths. The Property lay dormant until an agreement with Dalagruvor AB was reached to commence open pit mining to a depth of 30 m, which occurred in 1989. Extraction of 40,000 tons of polymetallic mineralization grading 90 g/t Ag, 5.1% Zn, 1.9% Pb, and 0.3% Cu was transported to the Falun plant for mineral processing.
From 2001 to 2008 Tertiary Minerals Ltd. completed induced polarization and ground magnetics over the South and North zones at Gruvberget. Tertiary completed approximately 300 m of drilling in three holes close to the South zone, and results were not disclosed.
Wiking Mineral AB controlled the Gruvberget Property from 2008 to 2018 where they flew a heliborne SkyTEM electromagnetic and magnetic survey that identified the conductor associated with the northern part of the North zone. In 2011, Wiking completed 2,200 m of drilling in 15 holes at the North zone, which delineated significant polymetallic mineralization over a strike length of 550 m and a vertical extent of 160 m. The North zone remains wide open at depth, and partially along strike.
Figure 5: Gruvberget North and South Zones
References:
1 Allen, R.L., Lundström, I., Ripa, M., and Christofferson, H., 1996, Facies analysis of a 1.9 Ga, continental margin, back-arc, felsic caldera province with diverse Zn-Pb-Ag-(Cu-Au) sulfide and Fe oxide deposits, Bergslagen region, Sweden: Economic Geology, v. 91, p. 979–1008.
2 https://www.boliden.com/4917db/globalassets/operations/exploration/mineral-resources-and-mineral-reserves-pdf/2022/resources-and-reserves-garpenberg-2022-12-31.pdf?v=0.749
3 Ed. Eilu, Pasi, 2012, Geological Survey of Finland, Special Paper 53, Metallogenic areas in Sweden.
4 Geological Survey of Sweden report grb_097, 1997.
5 Daffern, T., Ellis, R., King, P., Richardson, S., Glucksman, E., Beveridge, A., 2017, NI 43-101 Technical Report for the Zinkgruvan Mine, Sweden, Wardell Armstrong International.
6 Raat, H., Jansson, N.F., and Lundstam, E., 2013, The Gränsgruvan Zn-Pb-Ag deposit, an outsider in the Stollberg ore field, Bergslagen, Sweden: Geology Applied to Mineral Deposits, Biennial Meeting, 12th, Uppsala, Sweden, August 12–15, 2013, Proceedings, p. 12–15.
7 Kopparberg Mineral (unpub. annual report, 2012)
8 Jansson, N.F., Sädbom, S, Allen, R.L, Billström, K, Spry, P.G., 2018, The Lovisa Stratiform Zn-Pb Deposit, Bergslagen, Sweden: Structure, Stratigraphy, and Ore Genesis: Economic Geology (2018) 113 (3): 699–739.
9 Sveriges Geologiska Undersökning (SGU) Map Viewer: https://apps.sgu.se/kartvisare/kartvisare-malm-mineral.html
10 Wiking Mineral AB News Release dated May 12, 2011